WordPress 5.0 was released just a few hours ago. It is the first and the only major WordPress release of 2018 with a whole new set of improvements and some big changes. In this article, we will show you what's new in WordPress 5.0 and which features you should try after updating your websites.
Introducing Gutenberg The New Block Based Editor
WordPress 5.0 comes with a completely new editor codenamed Gutenberg. It is a block-based editor that allows users to create beautiful layouts using content blocks.
The old WordPress editor was a simple text window. While it worked well, you had to use different approaches to add images, create galleries, shortcodes, video embeds, and other content elements.
The new editor replaces them with a streamlined writing experience where each content element is wrapped in a block. You can move them around the editor, change their settings, and create engaging layouts without writing code.
By default, it comes with several blocks to add the most commonly used content elements. This includes blocks to add images, audio, video, photo gallery, cover image, lists, quotes, media, text, buttons, and more.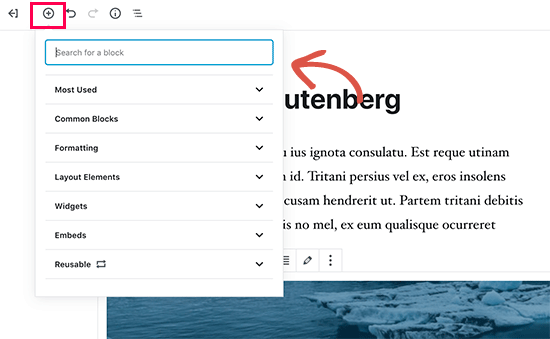 Blocks come with their own toolbar and settings. Apart from basic formatting options, you can also change width, colors, and other attributes.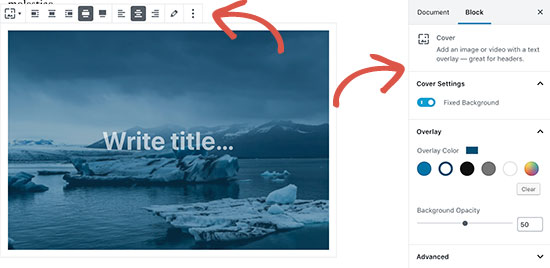 Widgets are also included as blocks, so you can easily add shortcodes, recent posts, recent comments, categories, and archives.
If you relied on adding shortcodes to your articles, then you can continue using them as a block.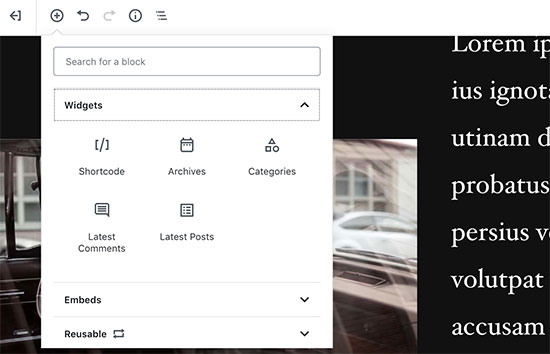 The new editor also makes embeds much easier. Simply expand the embeds section under the add block button, and you will be able to see all supported embed options.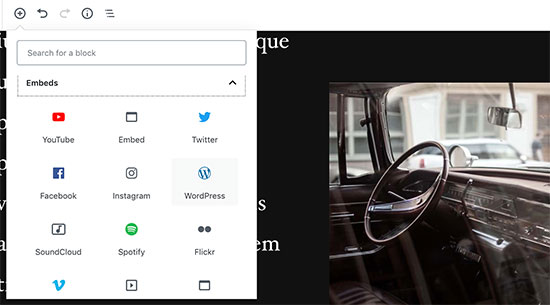 This makes adding videos, tweets, and facebook embeds a lot easier. Each embed is its own block, so you can adjust their settings just like any other block.
If you feel a bit distracted by the WordPress admin sidebar, then simply switch to the distraction-free full-screen mode. This will hide the WordPress admin sidebar, and you will have a lot more room to design your content.
You will find all your usual post editing features neatly tucked under the sidebar. This includes publishing and saving options, permalink or post-slug, categories and tags, excerpt, and more.